How To Choose Impact Crusher VS Jaw Crusher?
When deciding how to choose Impact Crusher VS Jaw Crusher, we need to compare the characteristics of these two machines in various aspects. When comparing impact crushers to jaw crushers, there are several factors to consider, including their applications, working principles, advantages, and limitations.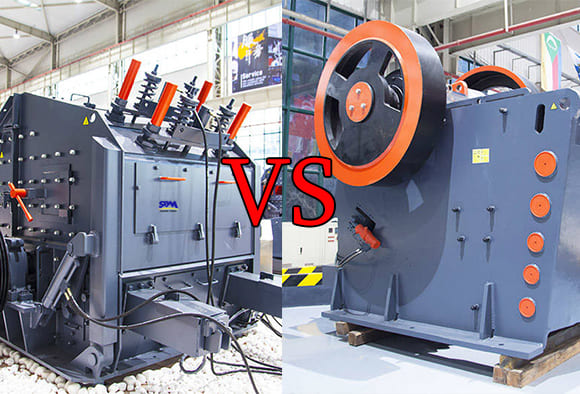 Impact Crusher VS Jaw Crusher
Applications:
Impact Crusher: Impact crushers are frequently used in quarrying, recycling, and mining industries for secondary or tertiary crushing. In addition to handling softer materials, they are excellent at creating cubic-shaped aggregates for concrete and asphalt manufacturing.
Jaw Crusher: Primary crushing is the main function of jaw crushers in the quarrying, mining, recycling, and demolition industries. They work well for processing a variety of materials, including abrasive and hard ones.
Working Principles:
Impact Crusher: Instead of using pressure to smash materials, impact crushers employ impact. A quick-rotating rotor picks up the material, which is subsequently thrown against the walls of the impact chamber after being struck by breaker plates or hammers. A cubical-shaped product is produced as a consequence of the material being crushed and allowed to crack along natural fractures.
Jaw Crusher: Jaw crushers work by compressing the material between two jaws, one of which is fixed and the other mobile. As the material descends, it is crushed by the moveable jaw's back-and-forth motion against the fixed jaw. The bottom of the jaw crusher is where the crushed material is released.
Advantages:
Impact Crusher:
Higher reduction ratio and more cubical-shaped end products.
Effective for processing softer materials.
Can handle larger feed sizes.
Suitable for recycling applications.
Jaw Crusher:
Ideal for primary crushing.
Good for handling hard and abrasive materials.
Lower initial cost compared to impact crushers.
Simple structure and easy maintenance.
Limitations:
Impact Crusher:
Higher wear and maintenance requirements.
May produce more fines.
Less effective for processing sticky or clay-like materials.
Jaw Crusher:
May produce more elongated and flaky particles.
Not as efficient for processing high-hardness materials.
Limited discharge opening adjustment options.
How to choose impact crusher vs jaw crusher?
Determine your Application Requirements: Recognize the particular demands and specifications of your crushing application. Take into account elements like the kind of material you'll be processing, the size of the finished product that's required, the material's hardness and abrasiveness, and the intended production capacity.
Evaluate Crushing Efficiency: Analyze if impact crushers and jaw crushers are more effective and efficient in fulfilling your application's needs. Compare each company's capabilities in terms of crushing ratio, reduction ratio, and the end product's quality and form.
Consider Input and Output Sizes: Consider the size of the input material and the size you want the finished product to be. While jaw crushers are better suited for initial crushing of smaller-sized materials, impact crushers are often more suitable for handling bigger feed sizes and creating cubical-shaped aggregates.
Assess Maintenance and Operating Costs: Think about how much each type of crusher costs to operate and maintain. While jaw crushers often have simpler structures and require less maintenance, impact crusher may have higher wear and maintenance requirements. Consider the long-term financial effects.
Analyze Equipment Features: Compare the features and capabilities of impact crushers and jaw crushers. Look at factors such as the feed opening size, the rotor configuration, the crushing chamber design, the power and speed of the machine, and any additional features that may be relevant to your specific application.
Seek Expert Advice: Consult with industry experts who are knowledgeable with both impact crushers and jaw crushers, such as equipment makers or suppliers. Based on your particular requirements and application, they may offer insightful advice.
Conduct Testing or Trials: If possible, try both types of crushers using your real material. This will enable you to assess their performance first-hand and aid in your decision-making.
Consider Operational Flexibility: Analyze the operational adaptability of each crusher type. If you need a mobile or portable solution, take into account elements like mobility, portability, and simplicity of transportation.
In the end, the decision on whether to use an impact crusher or a jaw crusher will be based on the demands of your application, the properties of the material you are processing, and other pertinent variables. Prior to making a choice, carefully weigh these variables and think through the long-term effects.