How to Choose The Right Crusher for Hard Rock?
When we choose the right hard rock crusher, one of the important factors is the Mohs hardness of the rock. Different rocks have different Mohs hardness, and the corresponding rock crushers used are also different. Hard rocks vary in Mohs hardness even if they are the same rock but have different mineral compositions and sizes.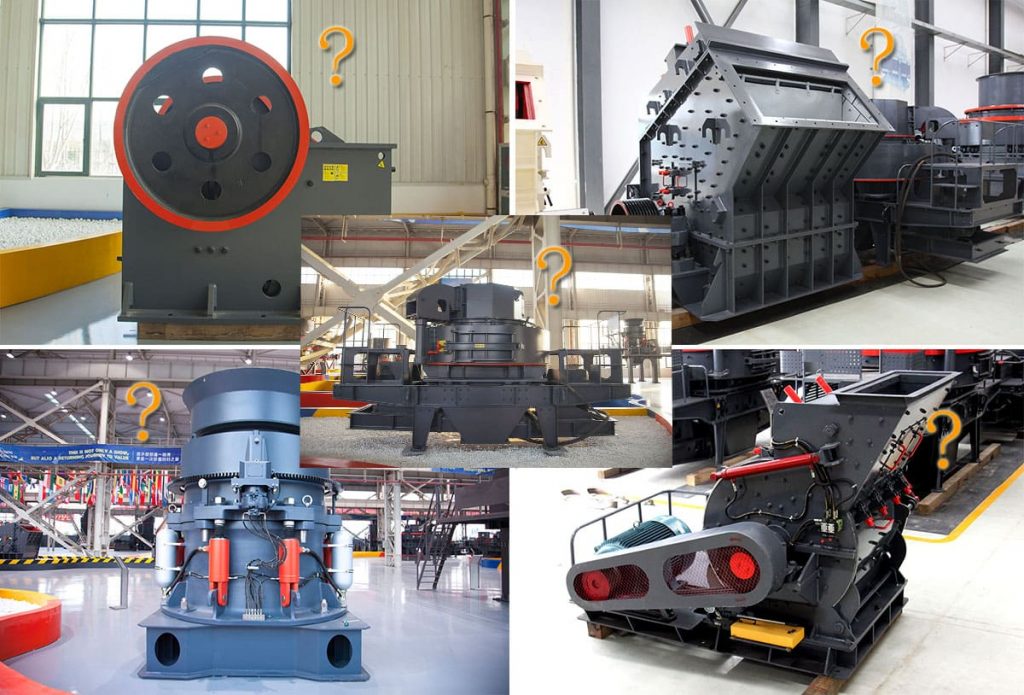 Depending on the type and hardness of your ore raw material, choosing the right hard rock crusher can increase your output. Beyond that, it has a host of other effects, such as lower costs and less wear and tear on machines. Then, according to the actual situation, it is very important to choose the right stone crusher.
The Right Crusher For Different Hard Rocks
| | | |
| --- | --- | --- |
| Stone Names | Mohs scale | The Right Crusher |
| River Pebbles | 2 to 7 | Jaw Crusher/Impact Crusher/Cone Crusher/Hammer Crusher/Sand Making Machine |
| Granite | 6 to 7 | Jaw Crusher/Impact Crusher/Cone Crusher |
| Gabbro | 6 to 7 | Jaw Crusher/Cone Crusher |
| Gold | 2.5 to 3 | Jaw Crusher/Impact Crusher |
| Tuff | 3 to 4 | Jaw Crusher/Cone Crusher/Impact Crusher |
| Limestone | 3 to 4 | Jaw Crusher/Cone Crusher/Impact Crusher |
| Limonite | 4 to 5.5 | Jaw Crusher/Cone Crusher/Impact Crusher |
| Iron | 4 to 4.5 | Jaw Crusher/Impact Crusher/Cone Crusher/Hammer Crusher |
| Hematite | 5.5 to 6.5 | Jaw Crusher/Impact Crusher/Cone Crusher/Hammer Crusher |
| Basalt | 6 to 7 | Jaw Crusher/Impact Crusher/Cone Crusher/Sand Making Machine |
| Andesite | 5 to 7 | Jaw Crusher/Cone Crusher/Impact Crusher |
| Dolomites | 3.5 to 4 | Jaw Crusher/Impact Crusher/Cone Crusher/Hammer Crusher |
| Sedimentary Rock | 2 to 7 | Jaw Crusher/Impact Crusher/Cone Crusher/Hammer Crusher/Sand Making Machine |
| Marble | 3 to 5 | Jaw Crusher/Impact Crusher/Cone Crusher/Hammer Crusher |
| Calcite | 3 | Jaw Crusher/Cone Crusher/Impact Crusher |
| Industrial Waste | / | Jaw Crusher/Impact Crusher/Cone Crusher/Hammer Crusher |
| Magnesite | 3.5 to 4.5 | Jaw Crusher/Cone Crusher/Impact Crusher |
| Aluminum | 2.5 to 3 | Hammer Crusher |
| Manganese | 6 | Jaw Crusher/Cone Crusher/Impact Crusher/Gyratory Crusher |
| Diorite | 6 to 7 | Jaw Crusher/Impact Crusher/Cone Crusher/Sand Making Machine |
| Magnetite | 5.5 to 6.5 | Jaw Crusher/Impact Crusher/Cone Crusher/Sand Making Machine |
| Copper Cobalt | 2.5 to 4 | Jaw Crusher/Impact Crusher/Cone Crusher/Sand Making Machine |
| Tungsten | 7.5 to 7.7 | Jaw Crusher/Impact Crusher/Cone Crusher/Sand Making Machine |