How does jaw crusher work?
Before we understand "how does jaw crusher work?", we need to understand what is a jaw crusher and the basic components of a jaw crusher. Then let's take a look at the types of jaw breakers.
What is a jaw crusher?
Jaw crusher is a commonly used mining machinery and equipment, which crushes larger stones or ores through the mutual extrusion of fixed jaws and movable jaws. Its main function is to reduce the size of mined ore for processing or transportation. Jaw crushers (for sale) are used to great effect in mines and quarries as well as in recycling processes where the reduction of bulky materials is required. The crushing equipment is widely used in mining, metallurgy, building materials, construction and other industries.
Basic components of jaw crusher
Fixed jaw and movable jaw
Jaw liner
Eccentric shaft
Drive pulley
Bracket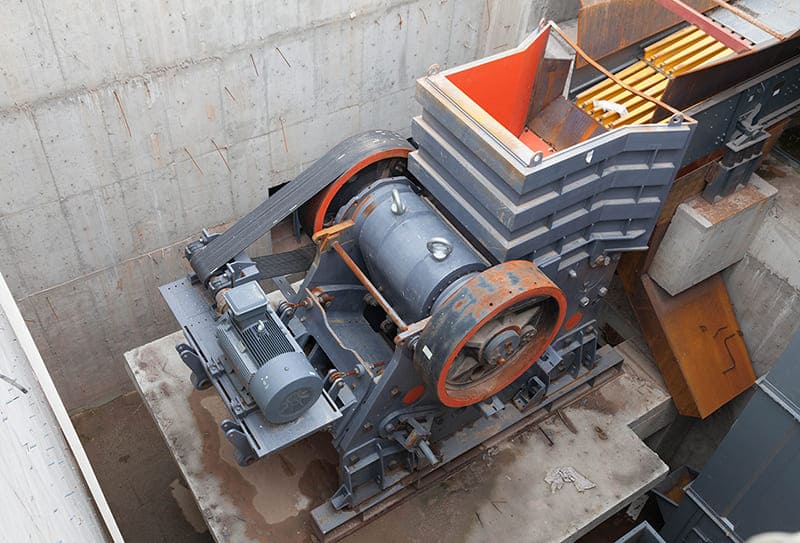 How does a jaw crusher work?
After having a basic understanding of the jaw crusher machine, let's see how the jaw crusher works.
The ore or rock to be crushed enters the crushing chamber (volume or cavity between the two jaws) through a vibrating grate feeder. The power provided by the motor rotates the eccentric shaft. With the rotation of the eccentric shaft, the movable jaw reciprocates. At this time, the movable jaw exerts pressure on the rock in the crushing cavity. The ore is squeezed into smaller pieces and gradually flows down to the lower discharge opening. After the ore is crushed to the set size, it is discharged from the crushing chamber through the lower discharge port. The size of the final product can be set in advance. The method is to use wedges or a hydraulic system to adjust the gap between the two jaws. SBM jaw crushers include safety features such as toggle plates. It protects the crusher from overload or uncrushable material. Jaw crushers are heavy machinery, so regular maintenance can ensure efficient operation of the jaw crusher. Maintenance operations include lubricating bearings, checking jaw wear, and tightening or replacing any loose or wearing parts.
Types of Jaw Crusher
PE Jaw Crusher
As a classic primary crusher with stable performances, PE Jaw Crusher is widely used to crush metallic and non-metallic ores as well as building aggregates or to make artificial sand.
PEW Jaw Crusher
PEW Jaw Crusher is a new crushing machine developed by SBM, the jaw crusher manufacturer, after the release of traditional jaw crusher. This jaw crusher is a perfect combination of modern science and technology and the production practice, which can better satisfy the automatic production demands of vast customers.
C6X Jaw Crusher
All indexes of C6X Jaw Crusher on structure and production efficiency present advanced modern technologies. SBM's C6X Jaw Crusher can solve such problems of the existing universal jaw crushers as low production efficiency, difficult installation and maintenance. At present, C6X Jaw Crusher is the ideal coarse crushing machine at domestic market.