How To Choose The Right Sand Making Machine?
Sand making machine, also known as sand maker or vertical shaft impact crusher (VSI crusher), is a machine used to produce artificial sand by crushing and shaping various materials. It is widely used in the construction and mining industries to produce sand from hard and abrasive materials such as rocks, minerals, and ores.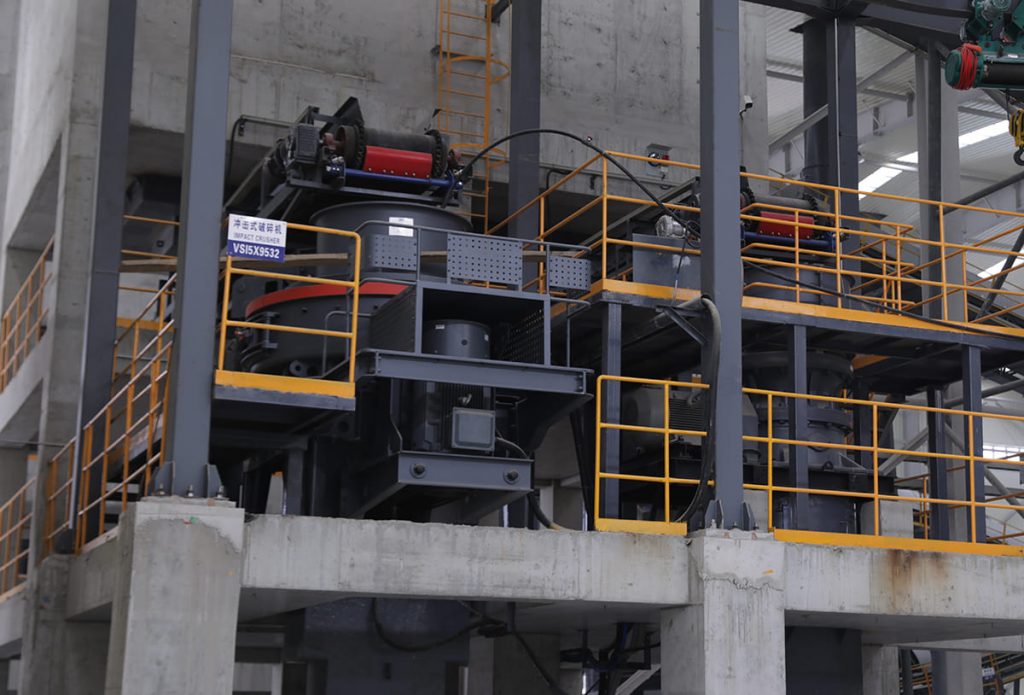 What are the types of sand making machines?
Vertical Shaft Impact Crusher (VSI Crusher): The most popular kind of sand-making machine is this one. By impacting the materials, a high-speed rotor equipped with wear-resistant tips or anvils smashes them and reshapes them into the necessary sizes. VSI crushers are adaptable and ideal for a range of uses.
VSI5X Sand Making Machine: SBM develops and explores a new generation of sand-making machine, the VSI5X sand making machine, based on bringing German technology to sand-making equipment and updating the VSI Sand Maker. The VSI5X sand producing machine incorporates three different crushing modes and has various separate property rights. As of right now, the VSI5X sand maker is the industry standard piece of machinery.
VSI6X Sand Making Machine: SBM, a Chinese professional sand making machine manufacturer, further optimizes the structure and function of traditional vertical-shaft impact crushers in response to the growing market demand for scale, intensification, energy conservation, environmental protection, and high-quality machine-made sand. As a result, SBM introduces the VSI6X Sand Making Machine, a new generation of sand-making and reshaping equipment with high efficiency and low costs.
Cone Crusher: Cone crushers may be used to produce sand in addition to its main application of crushing rocks and ores. The material is reduced in size to a size that is acceptable for sand-making by the compression force created between a stationary concave and a spinning mantle.
Impact Crusher: Impact crushers are mostly utilized for crushing rocks and ores, much like cone crushers. By producing high-speed impact pressures that crush and shape the materials, they may also be used to produce sand. In contrast to VSI crushers, impact crushers are employed less frequently for sand production.
Hammer Crusher: Limestone, coal, and gypsum are brittle minerals that work well in hammer crushers. They are not frequently used to make sand, but by dissolving bigger particles, they can be utilized to make coarse sand.
How to choose the right sand making machine?
The hardness and abrasiveness of the materials, the needed production capacity, the acceptable particle size distribution, and the particular application requirements are all things to take into account when selecting a sand producing machine.
Material Properties: Examine the materials you plan to treat in terms of their hardness, abrasiveness, and moisture content. The capacity of various sand-making machines to handle various ingredients varies. Make sure the equipment you select has the ability to efficiently crush and shape the particular materials you are dealing with.
Production Capacity: Choose the desired output of sand per hour or per day to get the necessary production capacity. Choose a machine that can efficiently satisfy your production needs by taking into account the volume of material you need to process.
Particle Size Requirements: Set your preferred sand's particle size distribution before you begin. The capacity of various machines to produce particular particle sizes varies. Verify that the machine can produce the range of particle sizes required for your application.
Shape Requirements: Consider the sand particles' intended form. Other machines could generate more elongated or flaky particles, while some are better at creating cubical-shaped sand. Select a machine that can provide the form properties that are ideal for your application.
Energy Efficiency: Calculate the sand-making machine's energy use. A machine that is built with energy efficiency in mind will likely cost less to operate in the long term.
Maintenance and Service: Take into account the machine's accessibility to replacement parts and simplicity of maintenance. Choose a machine that is simple to maintain and has strong manufacturer or supplier assistance.
Cost: Establish your spending limit while taking into account the machine's total cost, which includes the original purchase price, ongoing operating costs, and maintenance charges. While price is a crucial consideration, it should be matched with the machine's longevity and performance.
Expertise and Support: Analyze the degree of knowledge and assistance the manufacturer or supplier offers. Pick a respectable business with a history of producing dependable products and offering top-notch customer service.
Advantages of using a sand making machine
High Efficiency: A high-speed rotor with significant kinetic energy is used in the sand manufacturing machine to enable effective material crushing and shaping.
Cubic Shape: The sand manufacturing machine produces a cubic-shaped finished product with good particle form and gradation. This qualifies it for a variety of construction-related applications.
Versatility: The machine is adaptable for a variety of applications and may be altered to create sand in various sizes and forms.
Low Operating Costs: In comparison to conventional crushing equipment, the sand generating machine uses less energy and requires less maintenance.
Environmental Friendliness: By producing fake sand, the sand making machine lessens the demand for natural sand mining and its negative environmental effects.
What is the difference between a sand making machine and a jaw crusher?
The mining and construction sectors both utilize different types of crushing equipment, but there are clear distinctions between a jaw crusher and a sand generating machine.
Function
Sand Making Machine: A sand maker's main job is to crush and shape various materials to create artificial sand. Larger-sized materials are reduced in size and graded into smaller, well-suited particles for use in building, making concrete, and other uses.
Jaw Crusher: In contrast, the primary purpose of a jaw crusher is to smash materials. It is made to reduce big rocks or ores into smaller bits, and is frequently employed as a first step before more processing or secondary crushing.
Working Principle
Sand Making Machine: A sand producing machine works by rapidly flinging materials against the lining plates or anvils of a crushing chamber. Artificial sand is created by crushing and reshaping the materials using impact and collision forces.
Jaw Crusher: Compressive force is used by a jaw crusher to crush materials. The materials are crushed against a fixed jaw by the pressure applied by the moveable jaw. The material's size is decreased as a result of this mechanical pressure.
Application
Sand Making Machine: Artificial sand may be made from a variety of hard, abrasive materials, including rocks, minerals, and ores, using a sand production equipment. It is extensively employed in the building, infrastructure, concrete, and other sectors.
Jaw Crusher: Common applications for a jaw crusher include mining, quarrying, and recycling. It is mostly employed for coarsely crushing materials like rock, ore, and stone. In the mining and construction sectors, jaw crushers are often utilized.
Particle Size
Sand Making Machine: A sand making machine is made to create cubical-shaped, well-graded particles. Depending on the settings of the machine and the particular specifications of the application, it can create sand with a variety of particle sizes.
Jaw Crusher: Depending on the setting for the spacing between the jaws, a jaw crusher can generate a range of particle sizes. It is often used to materials that need to be shrunk down to a smaller size in order to be processed further.